It's been a few months now since the skilled sushi chefs of restaurants Sushi Atelier and Chisou entered the world of Panzer's (download MENU here) – and yet every day we drool over their imaginative dishes and delicious flavour combinations.   
Earlier this month, we caught up with Robert – the head sushi chef on–site at Panzer's – to ask him a few sushi-related questions: 
What do you love about being in store at Panzer's?   Oh that's easy to answer!  It's the quality of the products in the shop which is so fantastic – and the happy, professional staff are a pleasure to work alongside.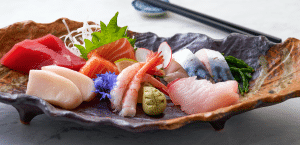 Which items on our Panzer's x Sushi Atelier menu are most popular?   The salmon set, the salmon avocado roll as well as the spicy tuna roll are the biggest sellers for us. The Panzer's customers certainly love their salmon! 
Describe this month's special roll   This is our Sunflower Roll: tuna and cucumber roll with yuzu mayo, wrapped with salmon and then topped with crushed pistachios while served with honey sweet kabayaki sauce.   
Why we should all eating it?   Sushi is as much about texture as it is about flavour and this roll certainly packs a punch on both! 
Which of the sushi platters makes a perfect takeaway dinner – and what would you advise alongside this?   Any of our medium platters (for 3-4 people) should be ordered with some edamame, gyoza and miso soup.   
Do you deliver locally to Panzer's?   Yes, we do.  Plus, you can always order for collection if you live further afield. 
How does a festive sushi feast look?   The Japanese love sake at Christmas and New Year so I'd recommend celebrating with one of our large platters while adding a bottle of sake (which we now sell from the sushi fridge in store). The Hakuko Red Label is an amazing all-round sake which you can drink cold or hot. It's Junmai so pairs very well with the sushi. 
The Sushi Atelier team is on site at Panzer's every day.  Order from our menu, at the sushi bar or online – or pick up a box of sushi from the fridge opposite the Coffee Bar.