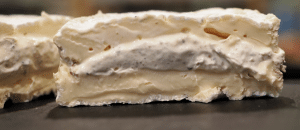 This month's cheese is Brie aux Truffles – and it's just one of the richest, most sumptuous and indulgent treats you will have ever tasted.  We truffle it in our kitchens at Panzer's and thought that we'd share our recipe with you all. 
Mix mascarpone in a bowl with 

a

 jar of black truffle paste. Add crème 

fraîche

 in small amounts to loosen the mix. The texture must hold itself but have a loose enough texture to spread. 

Cut the Brie de Meaux in half to give you two round discs. Be careful not to cut through the top or bottom rind.

Begin adding the mix to one side of the Brie de Meaux 

as

 you would a cake. The centre should be piled higher than the edges. 

(We suggest 

2cm in depth in the centre going down to 1cm at the edges.

)

Peel the tough exterior of the truffle with a sharp knife. Be careful not to remove the soft truffle interior. Once peeled, the truffle should be finely grated over the mascarpone mix.

Place the other disc of Brie de Meaux on top and lightly apply pressure. Ideally this should be done one day before serving.

 
You can use either white or black truffles.  Serve with an Arpège Champagne or a delicious bottle of Barolo.