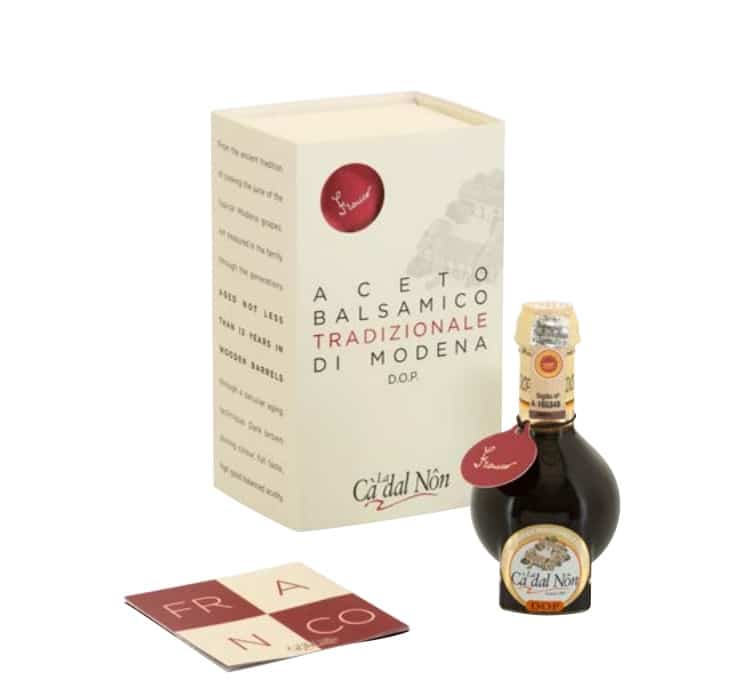 Ca La Dal Non Balsabamo Franco 12
About Ca La Dal Non Balsabamo Franco 12
Traditional Balsamic Vinegar of Modena P.D.O. 100ml - FRANCO
Aged for more than 12 years.

Ingredients: Cooked grape must.
Product description: Colour: dark, brown shining colour
Perfume: intense, delicate with a sweeter note in the nose, persistent and clean.
Taste: Good fluid density and strong body. Complex aromatic bouquet, slight fruity. Delicate in taste, with a mild fruity mulberry savour. Lively good balanced long acidity.
Use: to be used whenever you want to give a fruity note to your dishes: on an orange and fennel salad with crunchy almonds, on ripe figs to serve as an unusual dessert, on roasted pear crostini with parmigiano slices. For its fruity flavour Franco can be used to dress fruit salads (strawberries, cherries, etc...) or a Tuscious vanilla icecream cup.
Fast Nationwide UK Delivery
Available for In Store Collection
---