Try something new with Ricotta today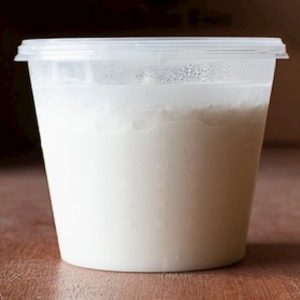 For those of you who aren't Ricotta fanatics (as we most certainly are), let's start at the beginning.  It's a soft, white and unsalted cheese.  Oh and quite the fluffiest cheese around…light, spongy, creamy, glorious fresh cheese.
So now we have your full ricotta attention, let's see what you could be doing with it:
Spread onto toast as a cream cheese.
Add honey and fruit for a sweet fix, or mix with 'nduja, a spicy soft salami, for fiery heat. We love it with our tomatoes: buy a mix of varieties, slice thinly, drape on top and sprinkle with sea salt.
Roast or grill peaches and / or figs then serve with ricotta, a drizzle of honey or date syrup and perhaps some crumbled amaretti biscuits to add crunch.
Add spoonful of ricotta into soups, pasta dishes or on flatbreads and pizzas.
Make a simple tart by rolling out puff pastry then topping with ricotta and a scattering of chopped tomatoes and seasonal vegetables.
For a quick dip, mix ricotta with yoghurt or crème fraiche and season with salt, pepper and a squeeze of lemon. Next, flavour as you like with ingredients such as chopped herbs, lemon zest, grated garlic or spring onions. Give it a final blitz for a smooth consistency.
Make homemade 'gnudi' using ricotta, spinach, eggs, flour, garlic and a pinch of nutmeg. You'll find simple recipes online.
Use ricotta to add a creamy layer to home-made lasagne.
Add to a cheesecake mix to lighten the consistency.
To bake ricotta, turn out into a baking dish and surround with grapes. Try flavouring with sprigs of thyme or rosemary.
With all these ideas what more is there to do but enjoy!
---
Which are your favourite products and aisles in our store?
Tag us into your instagram posts (@panzers_deli) so that we can see!