Going to someone's house for dinner, a weekend or just keen to impress a foodie friend?  We think our Cheese Lovers Hamper is a perfect idea for all of the above.  Firstly, your hostess will love you.  And secondly, cheese is the ultimate food indulgence and the gift which keeps on giving.  The food gift can be sent nationwide (next day delivery) and is beautifully prepared and wrapped – you can even include a personal message too.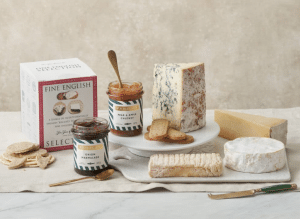 Or you can choose your own cheese gift – it's fun and easy to curate.  Pick at least one recognisable cheese for example Cheddar or Manchego.  Your recipient will feel comfortable at once.  Then embrace variety.  We particularly love Tunworth and Innes Brick – but really the choice can be yours with a whole cheese counter to pick out and try before adding to your gift.
Next think about your accoutrements.  Something sweet always pairs well with cheese. Try our Panzer's Pear and Apple Chutney or Panzer's Caramelised Onion Marmalade.
Breads and bagels– we have the works here in store with also a huge selection of crackers such as The Fine Cheese Company's Fine English Cracker Selection.
Lastly, if you're sending locally (or picking up in store) do include some seasonal grapes and figs to your gift – and DO check out our delicious (and totally preservative-free) Tabletop Grapes from Australia.