Want to know the secret to a happy Valentine's Day?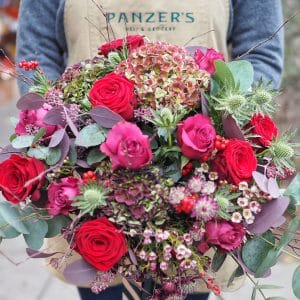 Well, we think we know: COOK AT HOME. Because we think restaurants are best avoided on 14th February – ruined by themed menus and self-conscious couples.
Here are simple and stylish ideas to rustle up a romantic meal on your own terms. All ingredients are available at Panzer's.  [obviously]
Aim for food that is light, creative and colourful. Reds are ravishing, so consider blood oranges, pomegranates, red chicories and, of course, strawberries – we sell the best money can buy.
Wake up your beloved with a glass of freshly squeezed blood orange juice – we import this fabulous fruit from Sicily. An extra splash of Prosecco or Champagne gets you in the mood.
Later, plan for a stress-free supper. As a starter, use your most beautiful plate as a backdrop for our stunning ingredients. For fish, how about a medley of caviar, smoked salmon and Gravad Lax, with blinis and a squeeze of lemon? Or a mix of charcuterie, with cornichons and crusty bread?
White fish is an easy main course. We sell pre-packed fillets to poach or bake. (We love baking in parcels of kitchen foil: cut out a square of foil; rub inside with extra virgin olive oil; put the fillet in the middle; season; add sprigs of herbs and chopped cherry tomatoes; scrunch the parcel around the fish – not too tight; bake at 180C). Or – for the ultimate cheat – how about a platter of sushi?
For an elegant dessert, serve a pair of our chocolate fondant cakes from Florence. (The brand is 'TortaPistocchi', £3.95 – you'll find them in the small fridge to the right of the deli counter).These are divine – serve surrounded with fresh berries and a dollop of crème fraîche. There are also versions with coffee and chilli to fire you up.
Don't forget our patisserie chef's Chocolate Cherry Cake: a heart-shaped chocolate sponge cake (4.5") with a Callebaut chocolate ganache, candied cherries and sprigs of fresh berries. £16. Last orders by 10am on Wednesday 13th February.
For Valentine cakes, cookies and flowers – last orders by 10am on Wednesday 13th February.
.