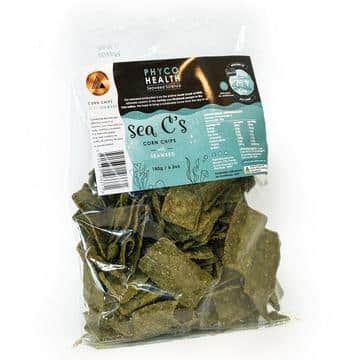 Sea C'S Bronze Medal Seaweed Fortified Cornchips
About Sea C'S Bronze Medal Seaweed Fortified Cornchips
Made with a traditional South American method at Mexico City Foods, these Australian Food Awards bronze medal seaweed cornchips are so tasty and include nutrition from whole green seaweed, cultivated in Australia. Snack with a good conscience and share a bag with your friend to get your micronutrients in a fun way.
With 5g of seaweed in 100g of Sea Cs you get at least:
50% of your selenium RDI
35% of your iodine RDI
33% of your boron RDI
10% of your iron RDI
22% of your manganese RDI
17% of your magnesium RDI
Further, there are good levels of lutein and zeaxanthin pigments and gut fibre.
All of our ingredients are Australian made, non-GMO and of the highest production quality. No gluten ingredients.
Fast Nationwide UK Delivery
Available for In Store Collection
---
Out of Stock