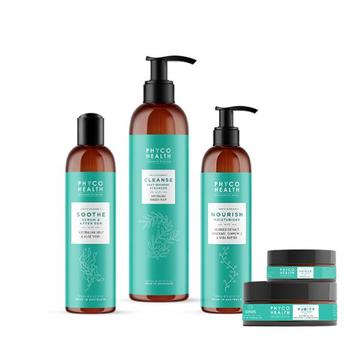 PhycoDerm Skincare Range with Seaweed
About PhycoDerm Skincare Range with Seaweed
Your favourite skin care regime in a full range pack including a 3 x bigger CLEANSE and a double the size NOURISH!

This Skincare Range includes:
PhycoDerm® CLEANSE 300ml: silky seaweed facial cleanser with kakadu plum;
PhycoDerm® PURIFY 100ml: a deep cleansing hydrating mask;
PhycoDerm® SHIELD 50ml: protective seaweed cream with SPF15;
PhycoDerm® SOOTHE 125ml: seaweed glycopeptide and aloe gel; and

PhycoDerm® NOURISH 125ml: deep moisture and repair.
We love research, but couldn't wait to share our seaweed ingredients with you to see what benefits you can experience for yourself. Our new
PhycoDerm
® range is designed to meet your daily skincare needs with a selection of small batch bespoke products, all containing high concentrations of our seaweed PhycoDerm® molecules.
Our PhycoDerm® extracts contain some exciting molecules such as glucuronic acids, iduronic acids and L-rhamnose, shown to be very similar to the connective tissue in our own skin. These complexes have unique roles to play in biological process such as the complex organisation of cells, the binding of collagen and growth factors, the protection of collagen tissue from hydrolysing enzymes, maintaining hydration within tissue structures; as well as anti-oxidant and anti-inflammatory activities. These molecules effectively absorb certain metals, and are successfully used in trials to re-mediate areas of heavy metal pollution.
Fast Nationwide UK Delivery
Available for In Store Collection
---