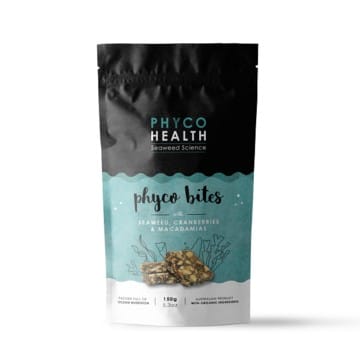 Phycobites Seaweed Granola Snacks
About Phycobites Seaweed Granola Snacks
PhycoBites are the versatile seaweed snack of choice. They can be eaten for breakfast on the run with a good coffee, morning snacks, afternoon tea, with red wine and feta cheese at the drinks bar. How many products can you use at so many times of the day and on so many occasions?
However, the best place we know to eat PhycoBites is in the bush and on the trails. Something about that break from a long walk just triggers that PhycoBites desire and we can't think of a better way to recharge your nutrients in nature than with PhycoBites. Suitable for young and old, high in protein with seaweed, nuts and seeds, Vitamin C from cranberries.
Made with our concentrated seaweed PhycoTein that has:
all essential Amino Acid
protein
B12
concentrated iron
natural Omega-3
Daily
micronutrients
from the sea and made with no gluten ingredients.
Made with no gluten ingredients in a gluten-free facility.
Fast Nationwide UK Delivery
Available for In Store Collection
---
Out of Stock