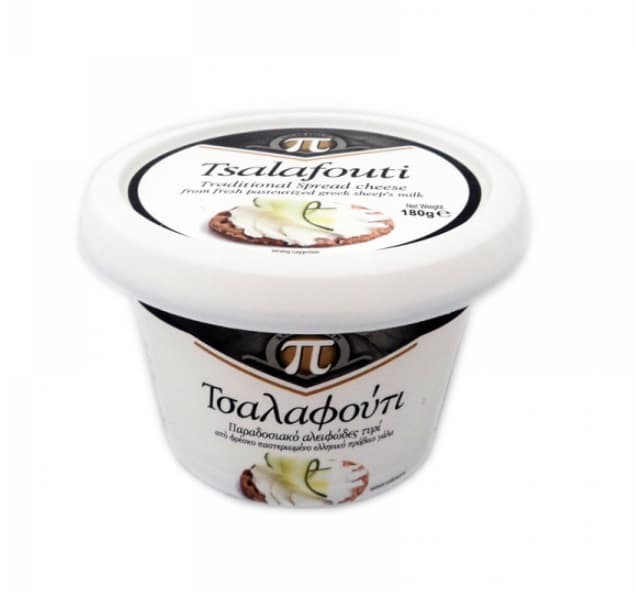 Tsalafouti Sheep's Milk Cream Cheese
About Tsalafouti Sheep's Milk Cream Cheese
Tsalafouti belongs to the family of cream cheeses. This is one of the very very few fresh, sheep-milk, additives free, cheeses produced in Europe today. According to our historical sources, the name Tsalafouti comes from the verb " tsalafouto ", which means to stir, play with water or milk.Our Pecorino Cremoso (Tsalafouti) is made from 100% sheep milk coming mainly from native sheep breeds that graze in our area.
a) Milk - Sheep only
b) Pasteurization - YES
e) Taste: its color is white while its texture is creamy. The taste is sweet, creamy and full to the palate. The aftertaste is sweet, round, soft, creamy, with delicate aromas of Mediterranean herbs and flowers.
Tsalafouti can be used equally in Patisserie and Cooking.
In the Patisserie side Tsalafouti can make excellent :
Baked or fresh cheesecake
Tiramisu
In cooking it can be used
In filling of Ravioli
In Pies and bureks
In Risotto, in the mantecatura phase
In Canelloni with spinach
In making cream sauces
In appetisers like salmon rolls filled with Tsalafouti
In sandwiches and Panini instead of fresh cheese like Robiola, Stracchino and Mascarp
Fast Nationwide UK Delivery
Available for In Store Collection
---
Out of Stock