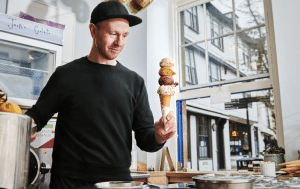 After making ice cream in restaurants for 11 years, Jack van Praag launched Jack's Gelato in 2010. Based in Cambridge, his criteria of making every single ice cream in small batches and only using the very best ingredients remains more than a decade later.  And, once we'd tried every flavour he'd ever churned and scooped, we knew that this was the ice cream we wanted to serve at Panzer's. 
We interviewed Jack for our May Newsletter:
 What makes a great ice cream?  Great ingredients, the best equipment, skill and hard work! 
How many boules is best?  Generally, I would say one! I think most of the time a flavour is best enjoyed on its own. As with every rule, there are exceptions – for example: try a scoop of Lemon with a scoop of Dark Chocolate & Sea Salt. 
Which is your favourite flavour and why?    It would have to be Stracciatella. I just love it. The contrast between the sweet cream base and the dark bitter chocolate is just something I will never tire of. We use the best milk and cream from The Estate Dairy and various world class chocolates (at the moment we are using chocolate from Pump Street Bakery) and they are both able to absolutely shine.  
Where would we find you on a hot summer's day?  In the kitchen.   
How would you describe Panzer's?   Utterly Unique. Driven by passion and obsession. A treasure trove of the world's best produce.  
How do you eat your bagel?  Everything Bagel toasted with cream cheese and jalapenos.      
You'll find 13 flavours of Jack's Gelato in Panzer's Ice Cream freezer.     
Scooping: 12noon -730pm