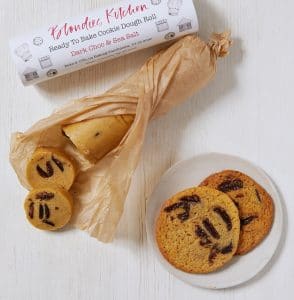 Ready-to-bake Cookie Dough Rolls have been one of the biggest lockdown joys in many a Panzer's household.  All you have to do is slice the dough and pop in a pre-heated oven for 10-12 minutes.  The cookies are second to none, the effort really is minimal!  We couldn't wait to zoom-in on Blondies Kitchen and find out more about Kristelle and Chelsie, the team behind this genius idea. Unsurprisingly, Kristelle's background had always been in restaurants and Chelsie spent more than two years at BBC Good Food as a cookery writer.
Here is our interview with the duo:  
Do you both have foodie backgrounds?  
Yes – we've both worked in food for a while plus we're trained chefs so we know a thing or 2 about cookies… 
 Where did the idea come from?  
Kristelle had been baking the original recipe since she was a child and always sold the cookies at the deli where she worked. Each batch she made flew off the shelves. So, we started adapting and creating lots of different flavours. Before we knew it, we were branded "the cookie girls" in North London.   
Which cookie do you eat the most?  
Whenever we add new flavours to our menu, they're often my "go to" cookie for a few weeks until I can't eat any more! Although, one cookie that I'll never tire of is our Cocoberry cookie. It's a toasted coconut base with raspberry jam and desiccated coconut on top. It reminds me of the old school coconut sponge and custard I used to love as a child, and each bite takes me right back to that happy time. In my humble opinion, it's the most underrated cookie on the menu. Everyone always goes for chocolate!  
How would you describe Panzer's?  
Panzer's is every food lover's dream.  Aisles of freshness, exciting new products and, of course, quality ingredients and fresh food. You pop in for something you need but leave with a dozen things you never knew you wanted. For me, it's the deli I wish was across the road from me, but is worth making the trip, even though it's not  
Favourite bagel topping?  
Smoked Salmon, cream cheese, squeeze of lemon and a twist of cracked black pepper. I'm a classic Jewish girl, what can I say![Text Wrapping Break]  
What's next for Blondies Kitchen?  
We're constantly innovating and creating new products for our lovely customers. Covid has been such a worrying time for all food businesses so this year we're taking everything in our stride and focusing on producing the quality we love.     
Look out for our Blondies Kitchen Easy-to-Bake Dough in the dessert fridge near the deli counter.