Anna is part of the shop floor team ensuring that our shelves are not only fully stocked but also beautifully displayed. She checks in deliveries, updating our systems and has been recognised because she is meticulous, focussed and a huge asset to the business.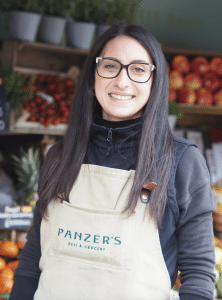 How long have you worked at Panzer's?  Just over 2 years. 
What do you love about your role?  Well, I love food and I also love people – the team here is brilliant and the customers are super friendly too!  So I think it's the combination of the food and the people, plus I'm always learning in my role which is important to me. 
Describe Panzer's in 3 words.  Top quality and international.
Which is your favourite bagel? I adore the Everything Bagel – either with nothing on it or with smoked salmon and cream cheese. 
Do seek out Anna when you're shopping in store and congratulate her in person!