Have you met the newest member of our team?
Victoria Lott, recently bakery and patisserie buyer for Harrods, has joined Panzer's as our head of Business Development and Innovation.  If you're wondering what all that means, read on. We sat down with Victoria (at our Coffee Bar, of course) to find out more.
What does your job title mean?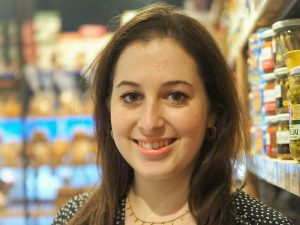 My main priority will be to continue to source the most fantastic products from around the world for Panzer's Deli and to continue to surprise and delight our customers every day, through bringing new exciting concepts and fantastic food to the store. Initially, I will be focusing on showcasing our amazing seasonal produce and growing Panzer's branded products.
How many years have you worked in the food industry?
Since I was 21.  It is all I have ever known, and couldn't think of working in a better industry. After finishing university, I went to Leith's Cookery School to complete the Diploma, then I staged in some restaurants, before starting my career in buying. I worked at the Fine Cheese Co. in Bath for a year and a half, before moving back to London to work at Harrods, where I started as the Assistant Buyer for Cheese, Charcuterie and Bakery, before going on to become the buyer for Bakery, Patisserie and Food to Go.
What is it about food?
Ultimately, I love that everyone has an opinion about food. It provokes conversation and brings people together. For Christmas, my brother bought me 'You and I Eat the Same' which is a collection of articles collated and edited by Chris Ying and Rene Redzepi promoting the message that good food is the common ground between different cultures, something that I wholeheartedly believe and a gospel that I think should be shared now, more than ever.
When did first visit Panzer's and what did you buy?
It must have been around 5 or 6 years ago, certainly when the shop looked completely different! I came looking for specific American products and, along with the corn syrup, I bought 4 sesame bagels and some smoked salmon – I can never resist…
Who in the food world has inspired you most over last 12 months?
Two ladies immediately spring to mind. Firstly, one of my favourite patisserie chefs, Terri Mercieca from Happy Endings. She is a brilliant chef, innovative, fun and just completely unique! She runs amazing workshops in her fab new kitchen in Hackney, and I was delighted to discover that her ice-cream sandwiches are already stocked at Panzer's so I can now get my fix on a daily basis – very dangerous! Also, my friend Felicity Spector who, aside for her encyclopaedic knowledge of the London food and restaurant scene as well as impressive baking skills, goes out for dinner every night – and never skips dessert, which is pretty much my life inspo!
Favourite cookbook at the moment?
I have been cooking a lot from Ottolenghi's Simple since it came out – his recipes are always a failsafe option and totally delicious. I love this book for post-work quick dinners. And, for bedtime reading, I have been re-reading Nigella Lawson's How to Eat, after seeing her speak before Christmas. She is definitely an idol of mine, and I was delighted to find out she's a Panzer's customer too.
What are you most excited about in your new role?
On my first day I discovered that Panzer's sells over 9000 products, all artfully curated into such a wonderful space. In my past, I've always been limited to working on specific categories, so I am incredibly excited to have more scope to explore. Scouring the globe for the finest artisan foods is going to my mission.
What would be your favourite breakfast?
It would have to be a medium-fatty smoked salmon sesame seed bagel with chive cream cheese, lemon (a little zest and juice), black pepper, capers and lots of dill. Perfection.
Where are you going to start in our aisles?  
Work has already begun on a new range of cakes and treats for Panzer's Coffee Bar and I am really looking forward to refreshing the cheese and charcuterie selection. There are so many amazing artisan British cheeses and a new wave of artisan charcuterie producers in the UK too.
---
Which are your favourite products and aisles in our store?
Tag us into your instagram posts (@panzers_deli) so that we can see!