Matt Duran is Panzer's Greengrocer Manager and is a favourite with the team as well as our customers. We caught up with him last week to understand what it takes to make a great greengrocer.
What do you love most about your job?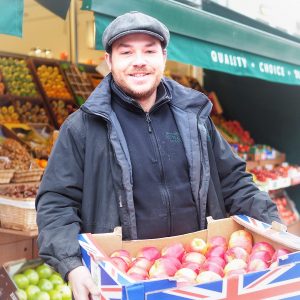 It makes me feel proud.  Proud of what I do  and the hard work my team put in.  We have wonderful relationships with our regular customers, watching their kids grow up as they watch ours.
What's often cooking in your section of the store?
A regular customer will tell us what they are cooking for dinner and ask our opinion regarding which vegetables might work best. We loving giving them ideas and, because we have customers from all over the world, we're always learning about all different world cuisines.
Which is your favourite fruit?
A perfectly ripe Italian Canteline melon. They don't have a long season but when we have them in stock, I could literally eat it for breakfast, lunch and dinner. My 1 year old baby loves a Peruvian Kent mango (she doesn't have cheap taste!) and I also buy beetroot a fair amount as my missus is obsessed with it!
What would you say is the hardest part of your job?
I suppose it would be the long hours as, when the shop is shut, we are still working – communicating and sourcing different products with various markets and buyers. But it's amazing what you get used to when you love what you do!
Your favourite lunch at Panzer's?
It has to be the Chef's fish and chips sandwhich – closely followed by #FalafelFriday!
What do you look for when hiring?
A can-do attitude, a willingness to learn and some 'good old fashioned' hard work ethic. Experience is not necessary– simply these three qualities and we can turn you into a brilliant greengrocer! That was me five years ago…
What makes a excellent greengrocer is… caring about what you do. Caring about your staff, your produce and your customers – all the small things that people do and don't notice separates a good greengrocer from an excellent one.
My favourite type of customer is… one who wants advice, our opinions or simply a chat. This is how we create relationships and bonds, by talking and getting to know each other.
What's working at Panzer's really like?
To be honest, it is totally different from anywhere I have ever worked. The team here is like another family to me; we look out and care for each other. The owners and management team have always been a massive support to me. I know I can't find what we have in any other workplace. It's fair to say Panzer's really does have a place in my heart.
---
Matt and his team are in every day of the week – if you would like order something in advance from the market, do email online@panzers.co.uk and your message will reach the greengrocer team.